Brokula i sunka sa kackavalj u testenine veoma zanimljiva kombinacija..Broccoli, Ham and Cheese Pop Tarts
Recipe by:http://www.easyanddelish.com/author/denbrowning/
Broccoli, Ham and Cheese Pop Tarts that can be prepared in less than 30 minutes and make a comforting meal or snack on the go. They are a fun alternative to back to school sandwiches.
Disclosure: This is a compensated campaign in collaboration with Cacique Inc. and Society Culinaria. Thank you, friends, for supporting the brands that I work with and love! 
Back to school? We've got you covered! These Broccoli, Ham and Cheese Pop Tarts make the most delicious and comforting meal or snack… for both children and adults. And you know what? They can be prepared in less than 30 minutes and easily transported anywhere, making a fun alternative to sandwiches. My kids are already hooked on them!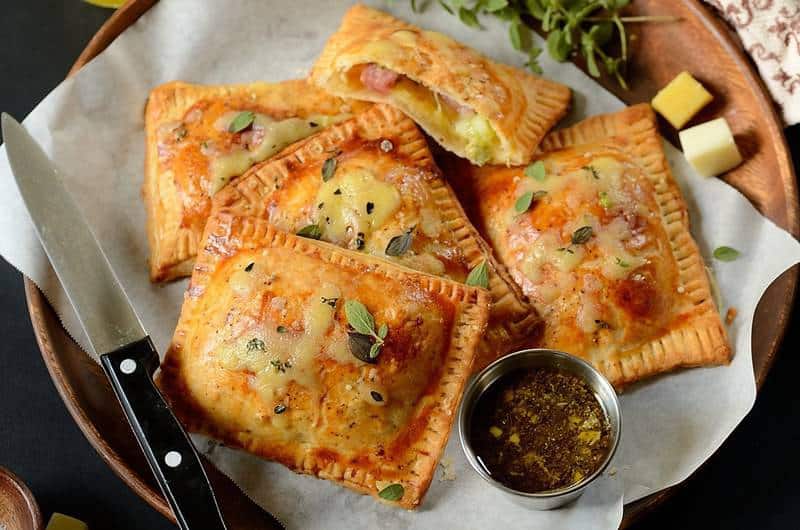 They are prepared with simple ingredients: store-bought rolled pie crusts, broccoli, cubed ham,and , seasonings, and herbs.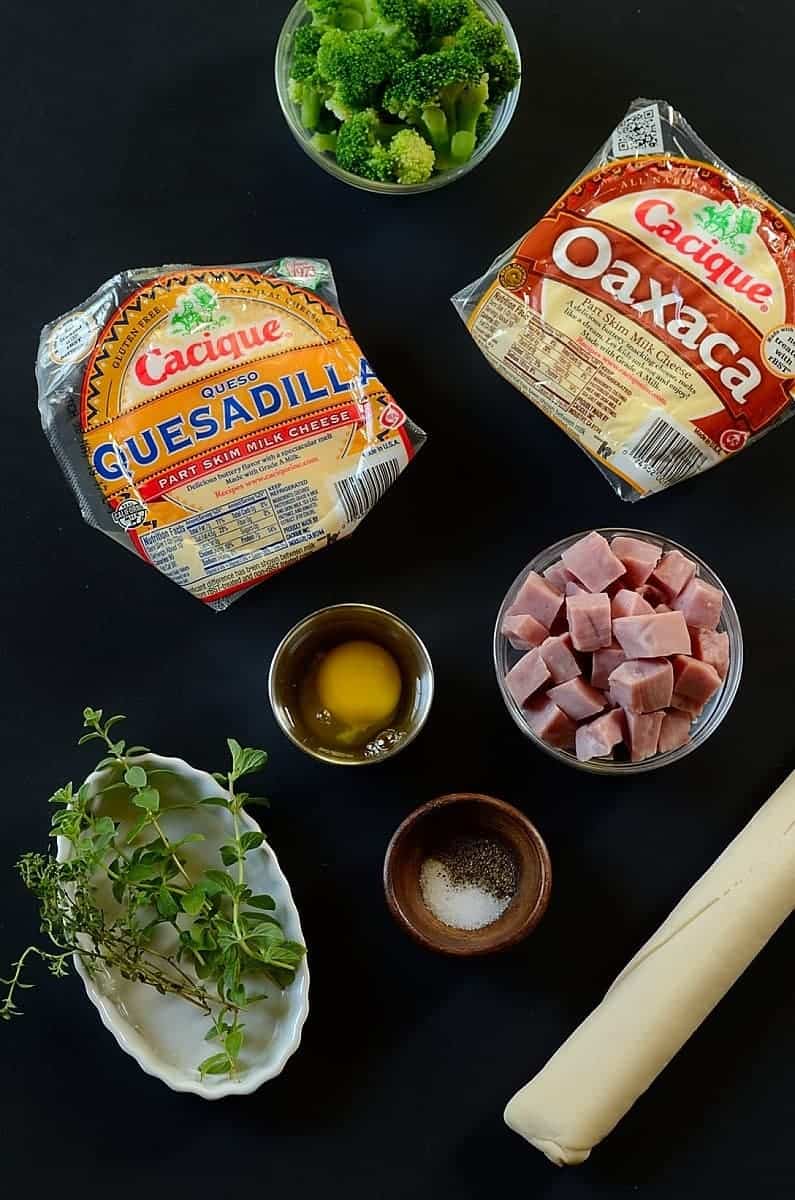 All one has to do is to roll out the pie crusts on a lightly floured surface, cut into rectangles, fill with a mixture of broccoli, ham, cheeses, seasonings, and herbs, brush on an egg wash  for an appealing, lightly golden color, bake them for about 10-12 minutes, and then…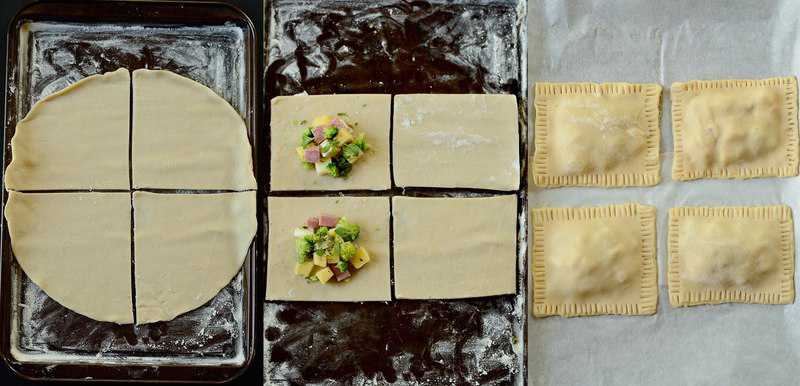 Voila! — they are ready to be devoured, either by themselves or accompanied by pesto, salsa, or any other sauce/condiment of your choice.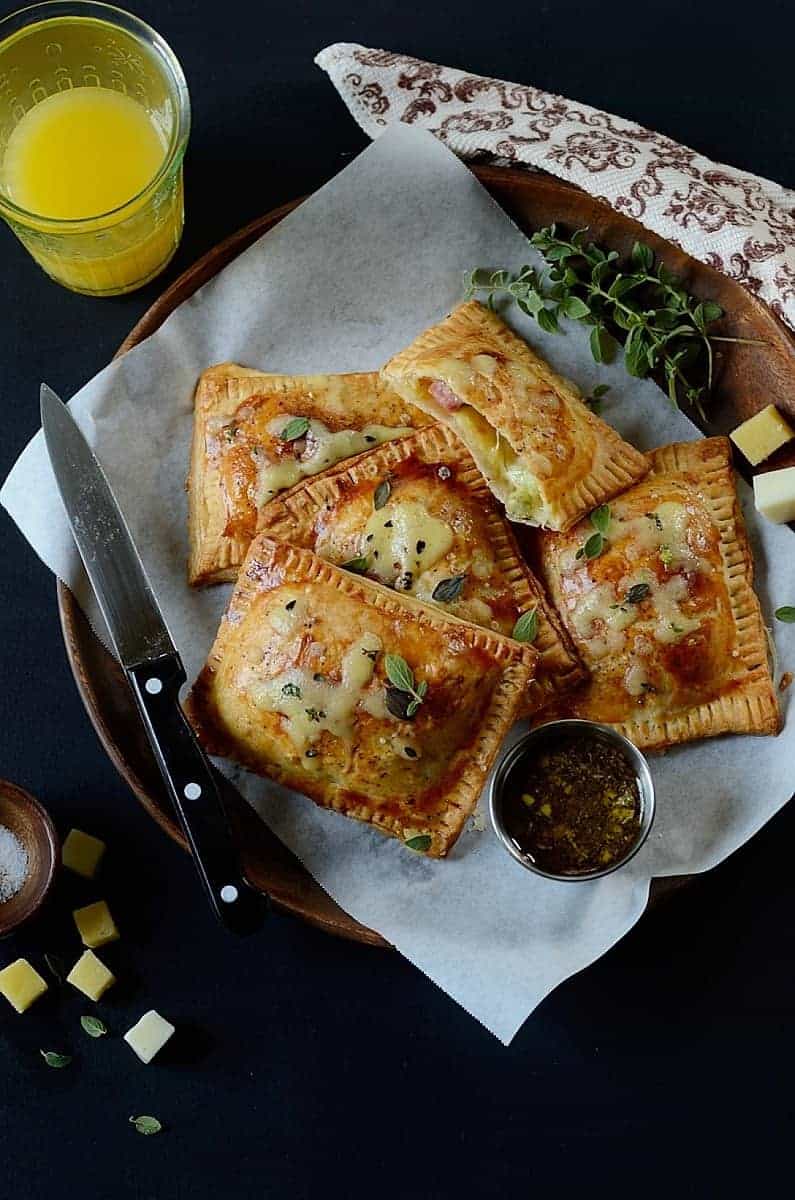 Both Cacique cheeses used in this recipe can easily be located here  Just click on the product and type in your zip code to locate their availability in stores near you.
For over 40 years Cacique has remained a family-owned company dedicated to producing the highest quality authentic products. It produces Mexican-style products using only the finest ingredients and authentic recipes. Its Queso Quesadilla and Oaxaca cheese are part of a delicious line of artisanal cheeses.
The Queso Quesadilla is nutty and buttery, making it a fabulous melting cheese for quesadillas and other dishes… while the Oaxaca Cheese has a savory, mellow buttery flavor, and really shines as a great stuffing cheese for baking recipes or as a stand-alone natural snack.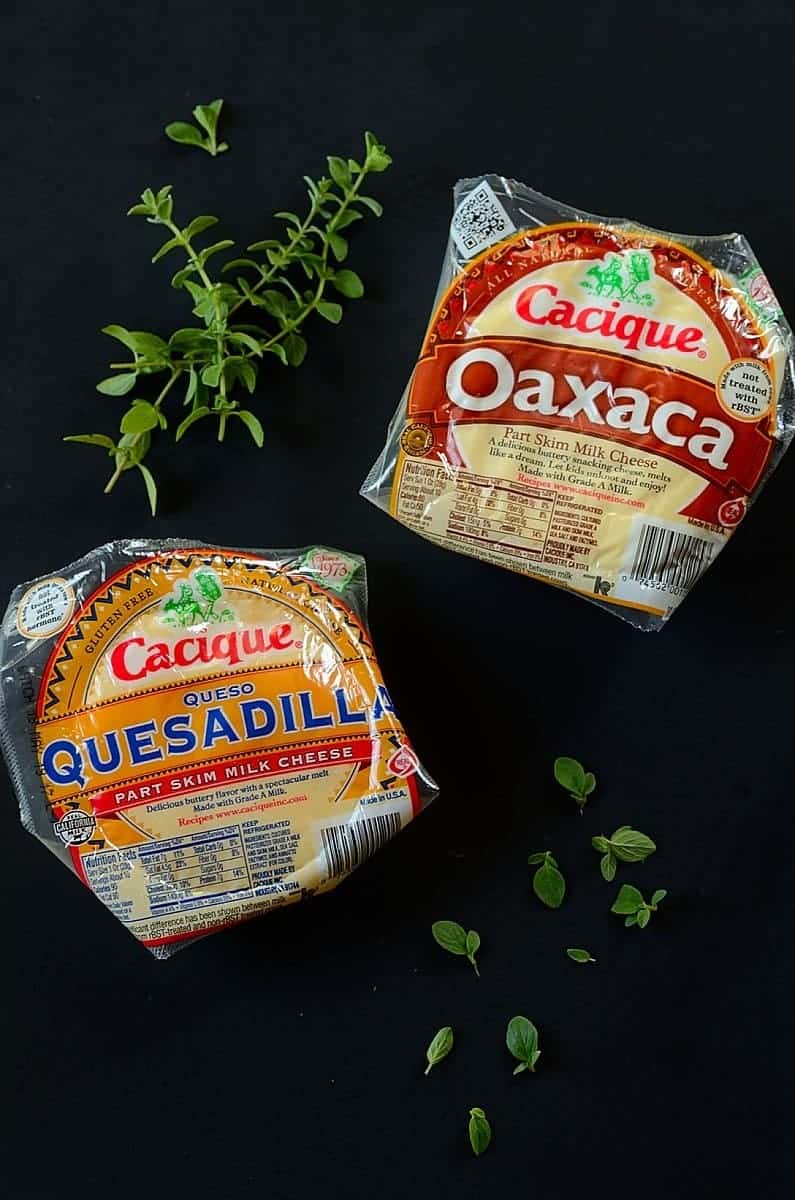 They also go very well together in these Broccoli, Ham and Cheese Pop Tarts. The only problem that you may encounter is eating too many of them!
Broccoli, Ham and Cheese Pop Tarts
Ingredients:
2 (9-inch) store-bought rolled pie crusts, at room temperature
1/3 cup Cacique® Queso Quesadilla, small cubed
1/3 cup Cacique® Oaxaca Cheese, small cubed
1/4 cup cubed ham
1/4 cup chopped broccoli, fresh or thawed
Salt and ground black pepper to taste
1 tablespoon fresh oregano leaves
1/2 tablespoon fresh thyme leaves
1 large egg, lightly beaten and mixed with 1 tablespoon of water
HOW TO MAKE IT
Preheat the oven to 400 degrees F. Line a large baking sheet with parchment paper and set aside.
Unroll both pie crusts on a floured surface according to the directions in the package. Equally divide each crust into fourths. Next, trim all edges to form rectangles. Use all the trimmings to make a ball of dough, roll out on a floured surface, and cut into 2 rectangles. You will end up with a total of 10 rectangles. Reserve.
In a medium bowl, mix the cheeses, ham, and broccoli together. Using 1/4 cup as measure, scoop the mixture and place in the center of 5 of the rectangles. Make sure that there is at least a 1/2-inch border from the edges. Sprinkle salt and pepper on top of the mixture and also a bit of oregano and thyme.
Brush the edges of the crust with the egg wash, then fold the empty side of the crust over the top of the filling. Pinch your fingers along the edges to seal and then use a fork to make marks all the way around. Transfer the pop tarts to the lined baking sheet and brush the top of the tarts with more egg wash. Sprinkle a bit of salt and pepper on top.
Bake for 10 minutes, then rotate the baking sheet 180˚. Bake another 1-2 minutes or until the crust is lightly golden brown. Let cool for 5-10 minutes on the baking pan, then remove tart with a large spatula and serve by themselves or with a sauce or condiment of your choice (e.g. pesto, salsa, ketchup, etc). If desired, shred a bit of Queso Quesadilla and sprinkle on top of the pop tarts 1-2 minutes before removing from the oven, and then sprinkle a bit of the fresh herbs on top. Enjoy!
************************************************
Brokola i šunka sa kackavalj…i sirom Pop Tarts

Sastojci:
-2 (9 inča) prodavnici kupete kore za pitu, na sobnoj temperaturi
-1/3 šolje mali kocki
-1/3 šolje sir, mali kocki
-1/4 šolje kocki šunka
-1/4 šolje seckani brokoli, sveži ili zamrznuti
So i mleveni crni biber po ukusu:
-1 kašika sveže origano lišće
-1/2 kašika sveže majčine dušice lišće
-1 veliko jaje, umuceno i pomešano sa 1 kašika vode
KAKO DA SE NAPRAVI
Zagrejte rernu na 400 stepeni,uzmite 2 velika pleka sa pergament papir i odvojeno.
Odmotati obje dvije kore za pitu na nabrasnjenu površinu u skladu sa uputstvima u pakovanju. Isto tako podeliti svaku koru u četvrtine. Sledeće, isecite sve ivice da se formiraju pravougaonici. Upotrebite svie ostatke pa napravite loptu od testa,razvuci na nabrasnjenu površinu, i iseći na 2 pravougaonika. Vi ćete završiti sa ukupno 10 pravougaonika. Rezervnih.
U srednjoj posudi, pomešati  sir, šunka i brokoli zajedno. Koristeći 1/4 šolje kao meru,uzimati kašičicu mešavine i staviti na sredine od smese na svih 5 pravougaonika. Uverite se da postoji najmanje granica 1/2 cm od spoljne ivice. Posuti so i biber na vrhu mešavine i takođe malo origano i majčine dušice.
Premazati ivice kore sa umuceno jaje, a zatim saviti praznu stranu kore preko vrha punjenja. Pritisnite sa prste duž ivica za zatvaranje, a zatim koristite viljušku da zatvorite skroz testa. Prenesite Pop Tarts-tetsa na postojeci pleh i premažite gornji deo Tarts sa više jaja.i kackacalja. Posuti sa malo soli i bibera na vrhu.
Pecite 10 minuta, zatim namalite pecku za pečenje na 180. Pecite još 1-2 minuta ili dok kora blago ne  porumene testa. Ostaviti da se ohladi na 5-10 minuta u plehu, a zatim izvadite testenine,koje su veoma ukusne, sa velike lopatice i služite ili sa sosom ili jelima po svom izboru (npr Pesto, salsu, kečapa, itd). Ukoliko se želi, iseckati malo  i posuti po vrhu Pop Tarts 1-2 minuta pre vađenja iz rerne, a onda pospite malo sa svežeg biljka na vrhu. Uživati!